Obituaries » Allan M Litchfield Sr.

Print
January 2, 1944 - April 19, 2018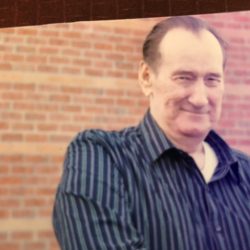 Obituary Viewed 5710 times
Allan Morrill Litchfield Sr., 74, of Sumner, Maine, passed away on 4/19/2018 at home surrounded by the love of his family.
Funeral services will be held at 11AM on Saturday, May 26th, 2018 at West Sumner Universalist Church with Marilyn Hammond, officiating. Burial will follow at Pleasant Pond Cemetery. Arrangements are under the direction of Cliff Gray Cremation & Funeral Service LLC.
Allan was born in Weymouth, MA to Walter and Carolyn Morrill Litchfield Sr. on January 2, 1944. He graduated from Weymouth H.S. in 1961. Allan held the high school basketball record for 8 points in 6 seconds at the Boston Garden. He was a member of the Boy Scouts of America, Order of DeMolay and Pilgrim Congregational Church of Weymouth. He was past Master of the Evening Star Lodge #147 A.F. &A.M. Buckfield, Maine. He worked as a plumber with Joe Tucci Plumbing in Weymouth before moving his family to Maine. Allan built his home in Sumner in 1969. He was self-employed with A.M. Litchfield Oil & Heating services before becoming a member of Local #716 Plumbers/Pipefitters Union. He retired in 2007.
Allan loved to play golf in his spare time. He enjoyed watching his grandchildren/great grandchildren play sports. Snowmobiling, CB radioing and entertaining friends was a pastime of his.
Allan is survived by his son Allan Jr. and his wife Stephanie of Buckfield; his daughters Vicki Rogers of Norway; Heidi Scibilio and her husband Anthony of Weymouth MA; Melindy Worthley and her husband Jamie of Sumner; Brother Walter Litchfield Jr and Sister Linda Richardson and her husband Junie of Sumner. "Grandpaw" cherished every moment with his 13 grandchildren, Erik, Scott, Andrew&Jaime, Bryan&Alicia, CJ, Destiny, Tobias, Andraya, Faith, Chandra and Anthony and 6 great grandchildren, Hailey, Aiden, Trevin, Emmett, Aurora and Curtis. His love touched many nieces, nephews, cousins and countless friends.
Allan preceded in death by his brothers, Lawrence, Wayne and Kevin, sister-in-law Lorraine Litchfield, nephew Joe Allen and parents Carolyn and Walter Litchfield Sr.
In lieu of flowers, donations in Allan's memory can be made to Androscoggin Home Health Care and Hospice, 15 Strawberry Ave, Lewiston, ME.
The family of Allan Litchfield Sr. wishes to extend our sincere thanks to Androscoggin Home Healthcare and Hospice as well as the many friends and family that helped us through this journey.