Obituaries » Caroline V Gould Vanable

Print
December 11, 1937 - June 24, 2019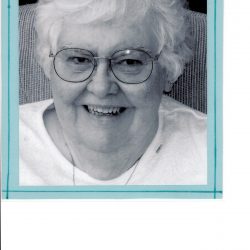 Obituary Viewed 6233 times
Caroline V. Gould
Bethel
Caroline V. Gould, 81 of Bethel died peacefully at home on the morning of June 24th with her daughter Susan, sister-in-law Doris, and special caregiver Cyndi Sumner-Salisbury by her side. Caroline was born in Providence, Rhode Island on December 11, 1937 the daughter of Joseph W. and Florence (Knott) Vanable. She graduated in the Class of 1955 at Mt. Pleasant High School in Rhode Island and later graduated from Rhode Island College in 1959. She married Malcolm C. Gould Jr on April 29, 1961 after they first met on a blind date on New Years Day, 1960. They later moved to Bethel in 1962 where she was hired as a first grade teacher at the Ethel Bisbee School. During Mrs. Gould's career, she was part of the team that helped establish the contract for teachers in the SAD 44 district and was "Mother Superior" to many. The comprehensive teacher's contract is still in place today.
Caroline started the Boxtops & Campbell Soup Labels campaign 40 years ago and saw it through, start to finish. She was famous for her cinnamon candy (only special people would get her candy), making 30 pounds every Christmas for years.
Caroline loved working at the West Parish Congregational Church annual Christmas Fair and Smile Fund.
She loved church, hymns, reading, volunteering, teaching, her family, and Mocha Chip Ice cream (which was her last meal). In 2011 she received the Chamber of Commerce Lifetime Achievement Award.
Caroline signed every card to her grandchildren: "Love You Forever…Gram" and sent her grandchildren off to school every morning with the advice: "Learn something!"
She kept in touch with her best friend Gladys for 76 years, and her pen pal Shirley from England for 66 years. She looked forward to Sunday night phone calls with her cousin Alice, Monday night phone calls with brother Joe, and visits with sister-in-law Doris.
She is survived by her daughter Susan and her husband Mark Mallory, granddaughter Samantha and her fiancé Ryan Smith and their children Maeve and Ruby of Bethel, grandson Jack Mallory of Bethel, brother Joseph Vanable and his wife Jane of West Lafayette, Indiana, sister-in-law Doris Mills of Bethel, brother-in-law George Gould and wife Marianne of West Paris, sister-in-law Bunny Vanable of Greenville, Rhode Island, her "other daughter" Chrissy Blake of Bethel as well as several nieces, nephews, cousins, & friends. She was predeceased by her Mother, Father, Husband, brother David, sister Susan, brothers-in-law Arthur Mills and Rodney Cary, niece Brenda Mills Gray and niece Betsey Vanable.
Memorial services will be held at the West Parish Congregational Church, Church Street, Bethel at 1 PM on Saturday, August 3rd, 2019. In lieu of flowers, donations may be made to the West Parish Congregational Church Smile Fund (checks made payable to West Parish Congregational Church, "Smile Fund" on the memo line.) Arrangements by Cliff Gray Cremation and Funeral Services, 60 Andrews Road, Bryant Pond.