Obituaries » Janet Shepard Vogt

Print
September 25, 1926 - December 30, 2019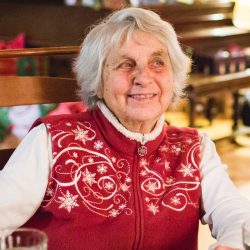 Obituary Viewed 4518 times
Janet (Janie) Shepard Vogt of Bethel, Maine passed away peacefully at home surrounded by her five children and loving husband of 68 years on December 30, 2019. She was born on September 25, 1926, the daughter of Harriet and John (Ned) Shepard, the owners of Shepards Camps on Pennesseewassee Lake in Norway, Maine. She was the younger of two daughters. Together with her sister Mary she was educated in the Norway public schools. She helped in the operation of the camps which included a full dining facility that served the summer guests.
Janie attended Colby-Sawyer College in New Hampshire after which she returned home to help her mother and sister in the operation of the camps made difficult due to the deprivations of World War II.
On October 24, 1951, Janie was married to Frank A. Vogt Jr. who was teaching English and doing some coaching in football at Bridgeton Academy in North Bridgeton, Maine. Janie became active as a dormitory housemother, school librarian, and dining room manager. While there her first two children, Dan and Cathy (Cayte), were born. During summers, she and her husband assisted in running Shepards Camps.
When a teaching opportunity for her husband opened up at Gould Academy in Bethel, Maine the expanding Vogt family moved into their home on Church Street. Janie's life was devoted to raising her family, which had grown to include daughters Susan, Amy and Laurie. She also began to practice flower gardening, which soon became a major feature of her life style. Whenever asked about the source of her gardening expertise she would answer "I went to Grandma Shepard's school of gardening!"
Eventually the Vogts bought their current house on Broad Street and Janie began to develop her gardens of raised flowerbeds. Before long a sign was placed at the end of the driveway which read "Janie's Garden – Enjoy". Over the years, hundreds of people came by to enjoy her work. Also, her gardens were featured in the book "The Most Beautiful Villages of New England". In 2005, Lynn Karlin, a well-known photographer did a six page feature on Janie's garden for Better Homes and Gardens Special Interest Publications.
Skilled in needlework, her intricately patterned sweaters continue to comfort her family. Her detailed cross-stitch work graces the walls of family homes.
Janie enjoyed athletics, especially basketball in her youth and swimming in Lake Pennesseewassee. She was also a devoted fan at her children's and grandchildren's sports events. She excelled at scrabble and loved to gather the family around a puzzle on a winter night.
Most recently Janie was lovingly cared for by her children. She also enjoyed many delightful visits from her grandchildren and great grandchildren, as well as from many dear friends.
Janie is survived by her husband Frank; son Dan Vogt and wife Jennifer of Colchester, Vermont; daughters Cayte Vogt of Bethel; Susan Vogt Brooks and husband Doug of Benton, Maine; Amy Vogt Downie and husband Mark of Dartmouth, Nova Scotia; Laurie Vogt Bailey and husband Howard of Andover, Maine; fifteen grandchildren and two great-grandchildren. She was predeceased by sister Mary Shepard Partridge and great-granddaughter Ada Brostek.
The family wishes to thank Androscoggin Home Health and Hospice and the many private caregivers for the wonderful care and compassion extended through this recent time.
Deepest appreciation goes to Judy Gould for her continued love, diligence, and commitment. She has become a member of our family.
We will announce a memorial and celebration of life at a later date.
In lieu of flowers, donations may be sent to the Mahoosuc Land Trust (mahoosuc.org) or the Western Maine Foothills Land Trust (wfltmaine.org).