Obituaries » Richard Alden Duplessis

Print
November 7, 1951 - September 18, 2021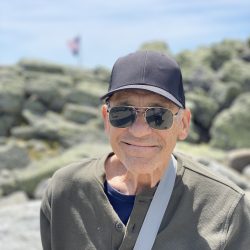 Obituary Viewed 1551 times
Richard Duplessis died September 18, 2021 at his home on Bog Rd., Mason Township, Maine surrounded by his wife, children, and his dog Sally. He was born on November 7, 1951 to Rita (Leavitt) and Rudolph Duplessis. He was the oldest of nine children.
He was a graduate of Sanford, Maine High School and attended the University of Maine, Portland-Gorham with a major in outdoor education. He also attended Hurricane Island Outward Bound, American Red Cross Aquatic School, and Mountaineering Schools.
He worked as a counselor at Crochet Mountain School, was a program director for Camp Wekeela, instructed Physical Survival for the University of Maine, and was a counselor at Camp Tall Pines in Poland Spring, Maine, a day camp for special needs children. Over the years he had employment at Maine Conservation School, Points North Surveying, Sunday River, and Hannaford. He also worked for Smokey's Greater Shows as a carnival assistant. He co-founded Pooh Corner Farm in 1984. He was an avid woodsman, builder, mechanic and active in motorsports.
He is survived by his wife, Carole, and children, Forest (Lainey), Margaret (Roland), and Christopher (Sarah), grandchildren Jeri and Aliza. He is also survived by brothers, David, Jimmy, John, Arthur, Joe and sister Patty. He was predeceased by sisters Janice and Betty.
There will be no public service.
Donations can be made to Inland Woods and Trails c/o Mahoosuc Mountain Rescue Team and sent to PO BOX 474, Bethel, ME 04217 and Androscoggin Home Healthcare and Hospice, 15 Strawberry Avenue, Lewiston, ME 04240.
Arrangements by Cliff Gray Cremation & Funeral Services, 60 Andrews Road, Bryant Pond.