Obituaries » Alvin G Austin

Print
November 11, 1945 - February 3, 2021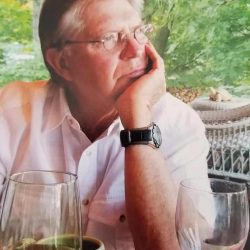 Obituary Viewed 1970 times
Alvin G. Austin ("Al"), 75, of Newry, ME and Hammond, NY, passed away peacefully on February 3, 2021 after a courageous battle with cancer. Al was born on November 11, 1945 to Grant and Inelda (Cox) Austin in Gouverneur, NY, where he grew up and graduated from Gouverneur High School. He then attended Rochester Institute of Technology, earning his Bachelor of Science in Mechanical Engineering and was also a member of the Pi Sigma Kappa fraternity. Following graduation, Al held positions at IBM, Motorola, Fairchild Semiconductor, while also earning his MBA at the University of New Hampshire. Al's hard work earned him senior leadership positions over his career including Digital Equipment Corporation in Augusta, Maine, and SCI in the Netherlands. He retired as a Senior Vice President from SCI in 2005.
Al's professional determination and successes were matched only by his personal prosperities. His passions for enjoying time with family and friends led Al to build homes at Sunday River, ME and on the St. Lawrence River in upstate NY. He spent many years skiing, fishing and boating, playing golf with his buddies, and always providing the best entertainment with his vast music collection. He was especially fond of time spent with his dear friends and fellow members of the Dry Timber Hunting Club in Fine, NY.
Al was preceded by his parents and is survived by his loving wife of 48 years, Julie, his daughter Kellie Larsen (Brett) of Wesley Chapel, FL, sons Grant Austin (Jaimee) of Scarborough, ME and Ben Austin (Robin) of Cape Elizabeth, ME. He is also survived by his five grandchildren: Katherine Larsen, John Larsen, Isaac Austin, Wyatt Austin and Emmett Austin; and his sisters Sherry Payment of Liverpool, NY and Valorie Foy of Crete, NE and their families.
Attachments area