Obituaries » Arlan R Jodrey

Print
March 14, 1936 - April 26, 2023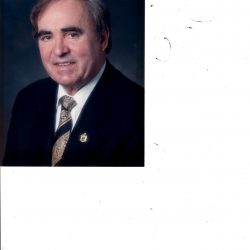 Obituary Viewed 214 times
Arlan R. Jodrey passed peacefully at home surrounded by loving family on Wednesday,
April 26th, 2023. He was born on March 14th, at home in Bethel to Walter & Norma Jodrey,
during the big flood of '36. At that time Bethel was an island, due to the heavy rains, with no
way to get out of town. In his early years, he attended Bethel schools and graduated from Gould
Academy in 1954. He joined the Army Reserves from 1958-1964 and was employed by the
Portland Pipe Line from 1953 until his retirement. With a drive for hard work, he had a side
business maintaining and sharpening lawn mowers and skates. Most notably the mowers for the
Bethel Inn Golf course. With this extra income was able to save enough money to buy an
engagement ring for the love of his life, Eleanor Lord whom he married September 9th, 1962.
In his spare time, Arlan was a Selectman for the town of Bethel for 19 years, a member of
the Budget Committee, Planning Board, and worked an Assessor. He served on the Advisory
Committee, then the Executive Committee of the Maine Municipal Association from 1988-1991.
For many years Arlan served on the Androscoggin Valley Council of Government's
Transportation Committee and was a volunteer fireman for Bethel for over 30 years. He had
worked with every Town Manager of Bethel since 1954. In 1990, he was awarded the Henry
Hastings Citizenship Award ***. Arlan went on to serve four terms in the Maine State
Legislature from 1998-2006 and was very proud to be a part of the Transportation Committee.
During this time, the Penobscot Narrows Bridge in Prospect, Maine was designed and
constructed. He was a member of the Bethel Historical Society and a member of the Bethel
Airport Authority, for which he received an award in 2022 for devoting 30 years. Additionally,
Arlan was a Director and Trustee of the Eastern States Exposition (Big E) in West Springfield,
Mass. He served many years with the Oxford County Soil and Water Conservation District. He
was President then Vice President of the Riverside Cemetery Association from 2008 until 2019.
He was a part of the Veteran's Honor Roll Park committee from 2011 until it's completion in
2022. Arlan's life work and commitments were recognized in 2022 when he received the Spirit
of America Award.
Apart from his time spent dedicated to the state of Maine, his favorite pastime was
working in the forest in his Tree Farms. This included growing more than a thousand Christmas
trees to help supplement his grandchildren's college education. Many cups of hot chocolate were
consumed around a camp fire while waiting for customers to arrive and pick out their favorite
tree. He and his wife, Ellie, were awarded Maine Tree Farmer of the Year and also received a
Northeast Regional Tree Farmer award for 12 states in 2002. He took a great deal of pride in his
woodlots and wanted to share the land for recreation and public use. He worked tirelessly with
Gould Academy to develop an extensive trail system for hiking, running, biking, skiing and
snowmobiling. In addition to time spent in the woods, every summer he could be found haying in
his fields. Hundreds of memories were made and strong work ethics were built in those fields by
family and friends. Some of the "crew" had worked with him throwing bales for over 50 years.
Other hobbies included collecting and restoring old tractors and most notably restoring a '64
Ford Mustang.
He leaves behind his wife of 61 years, Ellie; his daughter, Becky Jodrey Swan and her
husband, Ross; his son, Michael Arlan Jodrey and his girlfriend, Joelle. He also leaves four
grandchildren, Danny Koris and wife, Emily; Austin Jodrey and wife, Alessandra; Corey Swan
and fiancé, Taylor; and Ashley Swan. One great grandson, Eliot Rand Swan. He was predeceased
by a special daughter-in law, Celina Couture Jodrey; sister, Barbara Jodrey and her husband Carl
Merrill; and brother, Melvin Jodrey who died at age 19.
Dad maintained his humor, kindness and dignity till the end.
In lieu of flowers, please consider donating to the Bethel Rescue Service (PO Box 1660, Bethel,
ME) or Androscoggin Home Health and Hospice (15 Strawberry Ave., Lewiston, ME). Funeral
services will be held May 14th, at 2:00 at the Bethel Alliance Church.
Arrangements by Cliff Gray cremation & Funeral Services, 60 Andrews Road, Bryant Pond