Obituaries » Dennis Biron

Print
January 22, 1948 - March 19, 2023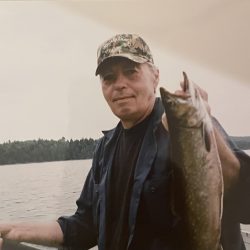 Obituary Viewed 684 times
Dennis Biron, 75, of West Paris, died on March 19th 2023 at St. Mary's Regional Medical Center in
Lewiston Maine with his best friend David Bragg and son Randy Bragg by his side.
He was an avid hunter, trapper and philosopher. Dennis also enjoyed fishing "upta camp" with Tom
"Crop", David, Randy, Chris, Paul, Jeremy, Stewart, Red and the rest of the Crew. Another hobby was
racing at OPS and moose hunting with Tyler. He was a logger most of his life from the towns of Jackman
to Sumner. Later he was a Math professor at CMTC and then a Building Engineer at Keiser Homes.
He enjoyed many Thanksgiving and Christmas Dinners with the Braggs and the Hoopers. There were
many late night talks and laughs shared around the campfire during the summer months while star
gazing. No one got quite as excited as Dennis did when there was a meteor shower in the forecast.
Dennis is predeceased by his parents Sylva and Alma Biron and a granddaughter Daphane Biron.
He's survived by Daughter Pauline Biron and husband Mike and thier daughter Annika from California.
Daughter Danielle Juneau and her daughters Luna Juneau-Garcia and Cela Lewandowski from
Nebraska. Son Neil Biron and wife Patricia of Buckfield and their granddaughters Layce and Penelope
Biron of North Carolina.
He will be greatly missed by his best friend David Bragg and wife Brenda. Their daughter Kelly Hooper
and husband Brian, their kids Emma and Jackson. Son Randy Bragg and wife Alyson, their kids Ryder
and Hadley.
A graveside burial will be held later in the spring.