Obituaries » Florence Y Buck York

Print
August 7, 1930 - March 27, 2018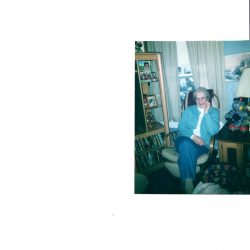 Obituary Viewed 4751 times
Florence Y "Mim" Buck
Milton twp.
Florence Y. "Mim" Buck, 87of Milton Twp. passed away in Milton Twp. on Tuesday March 27, 2018.  Mim was born at Bryant Pond on August 7, 1930 the daughter of the late Orland York and Ida Powers and was educated in local schools.  Mim had been a homemaker and bookkeeper for the Buck Trucking most of her life. Mim had a passion for listening to country music, camping and travelling with her family.  Mim enjoyed going out to eat, especially for an ice cream.  She had a special bond with life and to everone who knew her.
She is survived by her children: Llewellyn E. Buck of Milton Twp., Larry O. Buck and his wife Sue of Rumford, Wayne F. Buck and his wife Deana of Milton Twp., Shirley B. Keach and her husband Randy of Farmington and Susan B. Hooper; 9 grandchildren, 9 great grandchildren and one great great grandchild.
She was predeceased by her parents Orland & Ida (Powers) York, her husband of 57 years Elbriedge Buck and a son-in-law Peter Hooper.
Visiting hours will be held at the Locke Mills Church on Tuesday April 3rd from Noon to 2 PM with a funeral service to follow at 2 PM with Pastor Lloyd Waterhouse officiating.  Burial will be at the Abbotts Mills Cemetery later in the spring.
Arrangements by Cliff Gray Cremation & Funeral Services, 60 Andrews Road, Bryant Pond.