Obituaries » Geraldine Abbott

Print
May 18, 1937 - February 11, 2023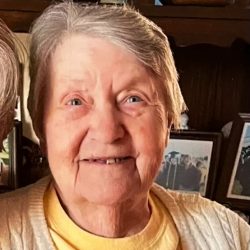 Obituary Viewed 367 times
Geraldine (Gerry) B. Abbott
Born 05/18/1937
Past 02/11/2023
Geraldine B. Abbott, of West Paris, passed on to be with her Lord and Savior on
02/11/2023 after a long battle with Alzheimer's.
Geraldine B. Abbott was born Geraldine B Watt to William (Bill) F. Watt and
Laura Allen Watt on 05/18/1937. She graduated from West Paris High School in
1955. Was married to Sidney M. Abbott on 07/29/1956.
Geraldine was an Avon lady for over 20 years and won several awards.
Gerry was always active in her church. She taught Sunday school, Vacation Bible
school, organized Bible studies, and helped with her husband in building 2
churches. Gerry's whole world was her children, grandchildren, and family. Gerry
was a passionate about horses and raised quarter horses.
Gerry is survived by her husband Sidney M. Abbott. Three children Dannie
Abbott and wife Deana of West Paris, Vicki Farrar and her husband Darin, of West
Paris, and Clay Abbott and his wife Kathy also of West Paris. 3 granddaughters,
Tristan and husband Jordan Wood of Manchester NH, Laura Abbott of Phoenix AZ,
and Beth Perry of Brunswick ME. 5 Grandsons Develan Abbott of West Paris, Cody
and wife Liis Abbott of Ole town, Reed Farrar of Chicago, Jarod and wife Liliana
Farrar of Dallas, and Raymond Perry of South Paris. 2 great grandsons Cameron
and Conner Wood of Manchester NH!
Gerry is also survived by 5 siblings Sharon Hale of Norway ME, Willis Watt
of Phoenix AZ, Bud Watt of Polson MT, Connie Busby of Eugene Oregon, and Bob
Watt of Billings MT. She has 4 nephews and 7 nieces. Linda Abbott her sister-in-
law of Tampa FL.
A special thank you to the Maine Veterans Home in South Paris for the
excellent care and attention giving to our mother during her brief stay. She
responded to the great care.
Celebration of life services will be announced later in warmer weather.