Obituaries » Karen Wight Perkins

Print
November 2, 1942 - May 19, 2023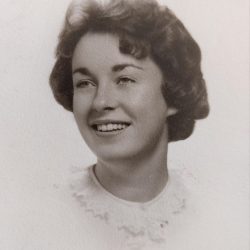 Obituary Viewed 200 times
Karen Perkins Wight, 80, of East Bethel passed away peacefully on Friday May 19, 2023 at the Market Square Memory Care facility in South Paris Maine.
Karen was born in Haverhill Massachusetts on November 2,1942. She was raised in Kittery Point, Maine. She was a 1960 graduate of Traip Academy, and studied ballet.
In 1962 she married Eric T. Wight of Rumford, Maine. Karen then spent 22 years as a Game Warden's wife and lived all over the state of Maine.
After Eric's retirement, they built their dream home along the Androscoggin River in East Bethel. They spent over 30 happy years on the river and
just as many happy holidays there with her family. Karen truly enjoyed all the wildlife that was ever present there on the river.
Karen loved her crafts. She did almost any craft you could think of. She made braided rugs, did rug hooking, beading, sewing, needle craft, ceramics, the list goes on.
Karen was a Boy Scout leader in the 1970's and a Girl Scout troop leader in the 1980's. She loved her scouts and their many adventures.
During the Bicentennial Karen was very involved with the reenactment of Benedict Arnold's march on Quebec. Karen spent countless hours replicating the
colonial garb worn during that time period. She made dozens of outfits for her entire family to wear during the reenactment.
In 1989 Karen became a business owner, running Telstar Video until its closure in 2008. She loved her store and her customers.
One of Karen's biggest loves was camp. One can not think of Karen without some fond memory of her being at camp. Karen loved to be out on the water and she
loved to fish. She also loved to just sit on the porch with everyone and have a drink.
Karen is survived by her children, son Nathan Wight and wife Debbie of East Bethel, daughter Jennifer Grover and husband Lawrence of East Bethel; Grandchildren Jessica, Kurtis, Sarah, Elizabeth, Katie and Great Grandson Jackson.
Karen is predeceased by her husband Eric and her brother Brooks.
In lieu of flowers, donations can be made to the Memory Care unit at Market Square in South Paris Maine or to the Alzheimer's Association.
A special thanks goes out to Judy Gould of Bethel, for helping mom through the last years of her dementia. Judy's tireless help allowed mom to remain in her home.
We couldn't have done it without you.
There will be a small celebration of life in August at Karen's East Bethel home.