Obituaries » Paul Kimball

Print
April 5, 1941 - May 22, 2023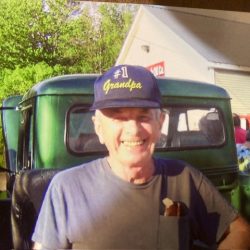 Obituary Viewed 652 times
Paul S. Kimball
1941-2023
Paul S. Kimball of East Bethel passed away on May 22nd, 2023 at the
Androscoggin Home Hospice House in Auburn, with his loving family at his side. Paul
was born in West Paris to C. Chester Kimball and Hazel Faye Mitchell-Kimball on April
5th 1941. He graduated from Gould Academy in 1959. He attended SMVTI Automotive
Mechanics, and worked as an Automobile Mechanic. He then went to Echo wood
products in Lockes Mills. In 1973 he began working for PH Chadborne Company as a
Diesel Mechanic. In 1987 he returned to Gilberts Manufacturing, and then finished his
career working for Bob Chadbourne . On April 20th 1963 he married the love of his life
and childhood sweetheart Charlotte M. Kimball. He was a man of all trades and a true
Mainer. He always had a project in the making. He loved tinkering on old cars including
his struggle buggy and prized Willy. He enjoyed fishing, his canoe, quilting, coin
collecting, and backyard wildlife. He loved working in the woods and cutting lumber
from his land to build his forever home. He had a garden every year and enjoyed
canning his own food and tapping trees to make maple syrup. He spent his life passing
down his traditions to his children, grandchildren, nieces, and nephews. He was a loving
and devoted man to his family and friends. He was known for his strength, wisdom, and
sense of humor, always taking care of others.
He was predeceased by his Wife Charlotte, Parents, Brother Dale Kimball , and
Sisters Flossie Bernier and Mary Smith.
He is survived by his Daughter Velora Tuominen and Husband Bruce, Son
James Kimball and Wife Gena . Sister Geneva Pelletier and Husband Larry. Brother in
Law Andre Bernier. Four Granddaughters Brianna Tuominen and Partner Kevin, Robin
White and Husband John, Mariah Kimball and Partner Jake, and Kristen Kimball. Six
great-grandchildren Sawyer, Maggie, Waylon, Lily, Charlotte, and Kenny. Special friend
Elizabeth Lapham. Many beloved Nieces, Nephews, and extended family.
He was laid to rest on May 28th 2023 at the East Bethel Cemetery.