Obituaries » Phyllis M Blake Merrill

Print
April 11, 1930 - December 23, 2022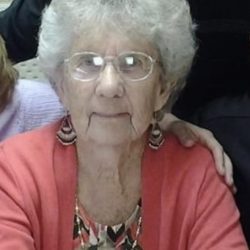 Obituary Viewed 515 times
Phyllis M. Blake found her peace on December 23, 2022 at the age of 92. She was
born in Bethel on April 11, 1930 to Everett and Jeordie Merrill.
Phyllis grew up in Bethel and graduated from Gould Academy.
She married Richard "Sonny" Blake on June 15, 1950 and they went on to have three
children together; Stephen, Peter and Sheila.
Phyllis held many roles of service in the Bethel area. She was the secretary to the
town manager, drove the school bus, worked in the cafeteria and did laundry over the
years, all for the Sad 44 school district. At one point, she and Sonny owned the local
gas station, Sonny's Texaco.
Phyllis loved sports, so much so she never missed a sporting event of Stevie and
Peter's and was often seen attending her grandchildren's sporting events. Her most
favorite sport of all was baseball, specifically Red Sox baseball. She was a devoted
fan. On one of her many trips to Fenway, she got the foul ball. That was a big day for
her and she smiled for days.
Phyllis loved the beach. For many years, she spent time with family in Indian Rock's
Beach in Florida during winter vacations, with fond memories of sunbathing with her
daughter Sheila. Her most favorite beach of all was Littlefield Beaches and
Campground in Bethel. She and Sonny spent every summer for 60 years as campers
there. They put in the camper on Memorial Day and came home on Labor Day. She
raised all three children with a carefree summer at the beach and then extended that to
her grandchildren.
Phyllis also worked at the camp store some years and cleaned the bathrooms. She was
known to instruct the kids to slow down on their bikes and made sure all campers
were following the "quiet" hours of the campground. An appropriate title for her
would have been Camp "Security".
Her lifelong Littlefield friends brought her so much joy. She moved campsites over
the years, but was most happy when she was in the middle of the campground so she
could talk to everyone walking by. She would chat with everyone, she felt like they
were all her family and friends.
Phylis had many other loves. Her grandchildren were very special to her, as was,
dancing at the VFW and other local places, getting her hair done at Linda's and
Holly's, driving around anywhere and anytime, visiting local restaurants, and drinking
her favorite whiskey and wine.
Phyllis is predeceased by her parents, Everett and Jeordie Merrill, her brothers Stanley
"Inge" and George Merrill and her daughter Sheila Verrill.
Phyllis is survived by her husband of 72 years Richard "Sonny" Blake, Son Stephen
Blake and wife Lindie of Bethel, Son Peter, and wife Tammy of Cushing, Maine,
eight grandchildren and fourteen great grandchildren.
There will be no services per her request.