Obituaries » Ruth Edwina Hazelton Farr

Print
October 2, 1927 - December 22, 2021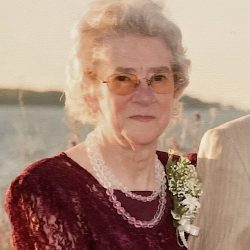 Obituary Viewed 1527 times
Ruth Edwina (Farr) Hazelton was born at home in West Paris, Maine on October 2, 1927. Her mother was Arlene Farr and her father was Raymond Farr. She was the third of four children, with older siblings Raymond Jr. and Marian, and younger sister Maxine. She outlived all three of her siblings.
Ruth lived in West Paris for her entire ninety-four-year-long life, excepting the last year or so when she stayed in a hospital and a care home. She outlived practically everyone who grew up in that generation in that town. She was a woman of her time and place. She held ideals about how people should be that sometimes didn't match up with what was going on around her. But her highest ideal of all was the sanctity of family. Her house was a safe place for children and grandchildren during tough times.
Ruth married Chester Wallace Hazelton in August of 1948 at Ferry Beach, Maine. He had come back from a World War Two deployment to Europe. All he ever said about his experience there was that the climate was like Maine's, and that they skied. It's obvious in the few pictures from that time how crazy Ruth and Chester were about each other. They started a pattern of honeymoon conceptions that has lasted three generations so far.
Ruth had two children, Bonita Gail in 1949 and Dennis Glenn in 1954. She and Chester worked in local mills. The family liked to take long sightseeing drives through Maine and New Hampshire. They went to local events such as soap box derbies and Old Home Days celebrations. Ruth liked to socialize. She visited friends, talked on the phone, and participated in her share of small-town gossip.
Ruth first became a grandmother in 1970 and continued becoming a grandmother until 1996. She has five grandchildren: Kelly Vining and Melissa Stundick from Bonita, and Shawn Hazelton, Joshua Hazelton, and Amanda Hazelton Ward from Dennis. Ruth was a shining star of a grandmother. While she enjoyed people in general, she especially enjoyed children. She loved playing with her grandkids, giving them gifts, listening to their stories. She loved having them stay overnight at her house and making them breakfast. She loved having holiday celebrations. She made fantastic chicken pies. The grandkids called her "Grammie" when they were little, settling into "Gram" as they got older. She called herself Gram when talking to them. She was such an obviously wonderful Gram that, later in her life, a local young woman asked Ruth if she could adopt her as her own grandmother. Of course Ruth said yes.
Chester Hazelton died at age 65 in 1986 of a heart attack, just after arriving for his shift at Penley's Mill in West Paris. Ruth talked about Chester's death matter-of-factly, but the loss of her mate was a quiet heaviness she bore for the rest of her life. Her granddaughter Melissa moved in with her full-time during seventh grade and lived with her until she went off to college. After that, Ruth carried on alone in her house, shoveling snow through the winters, carrying firewood up the stairs from her garage. At one point, a local paper published a picture of her stacking firewood in her garage, impressed that a woman in her eighties could perform such a feat.
Ruth didn't retire from work so much as work retired from her. She continued to have an active social life, attending the West Paris Unitarian Universalist church and potluck suppers, going on walks around town with a group of women friends, and taking bus trips with local senior citizens' groups. She sold her house in 2003 and moved about a half mile down Pioneer Street to an apartment complex for seniors, where she was a good and friendly neighbor. By then, she had taken on the role of caregiver for her sister Maxine and cousin Leland Doughty. She brought them to the grocery store and to doctor appointments. She did everything she could for as long as biology would let her get away with it. She developed neuropathy in her feet that eventually spread to her lower back, numbing her from the waist down. Yet she continued going for walks with her friends, and she continued to drive. Her hearing diminished to near-deafness, no doubt due to her years of work in the clattering mills. A hearing aid only helped so much. She continued to love talking with folks, jabbering away even when she couldn't quite make out the other half of the conversation. She simply, genuinely loved being around people. Especially little kids.
Ruth Edwina "Gram" Hazelton is survived by her son and daughter, her five grandchildren, and three great grandchildren: Taylor Ruth Stundick and Brady Beres Stundick from Melissa, and Bryce Hazelton from Shawn. Ruth's body will be interred next to that of her beloved Chester, where they will remain together in West Paris for all time.
Funeral services will be held in the Spring.
Arrangements by Cliff Gray Cremation & Funeral Services. 60 Andrews Road. Bryant Pond.