Obituaries » Susan E. Rainey

Print
September 1, 1948 - January 15, 2022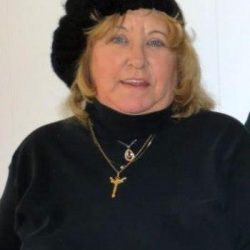 Obituary Viewed 978 times
Susan Rainey
While small in stature, Susan Rainey made up for it with her big and bold personality. A strong
faith, a jaunty hat and a propensity to speak her mind made Susan one of the most interesting
of people. She had a keen sense of humor and was always ready with a clever quip or wry
comment. She also had a gift of interior design and her homes were both attractive and
comfortable.
Susan was born to Zylpha Morgan and Thomas Linsbeck in Riverdale, Maryland on September
1st 1948. She was the second of what would come to be five girls and grew up in Bryant Pond,
Maine. She shared a particularly close bond with her sister, Joy Sumner, whose father Norton
Emmons married "Zip" when the two girls were but 11 years old.
Susan was an active teen and popular figure at Woodstock High school. She participated in
many extracurricular activities including Leading a parade, twirling a baton or cheering for the
team. She met her husband Edgar (Arnie) Rainey during that time and at eighteen they were
engaged and soon married. Susan and Arnie built their first house together close by her
parents in Bryant Pond and resided there with their two sons, Jeffrey and Michael. Susan was a
dedicated mother to her boys and the family eventually moved to Locke Mills where Arnie's
contracting business thrived. The family welcomed Michael's son Nathan who eventually came
to live with his grandmother. Nathan was the light of her life especially after Susan lost her
husband in 1993.
Throughout her life Susan had a strong faith and was always one to reach out to those in need.
She led prayers and attended various churches. Her faith guided her through the loss of her
beloved son Michael.
Susan met and married Ted Duguay and they resided together in South Paris, Maine.
Susan is survived by her loving husband Ted Duguay, her dear son Jeffrey and his wife Tracy,
grandson and dedicated caregiver Nathan Rainey, grandchildren, Josh, Jacob, Rachel, Ross,
Evan and Chasidy and many nieces and nephews. She will be missed by her sisters and their
husbands who include, Joan and David Bartlett, Joy and Floyd Sumner, Pamela and Joseph
Hebert and Tena and Bruce Perron.