Obituaries » Timothy Wllace

Print
December 30, 1956 - May 21, 2018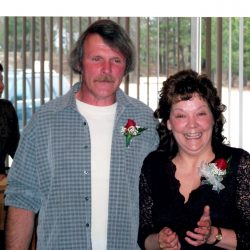 Obituary Viewed 4078 times
Timothy Wallace
Sumner
Timothy Wallace, 61 of Sumner, died May 21, 2018 at his home. He was born on December 30, 1956 at Farmington the son of The late Malcolm Wallace and Frances (Cole) Wallace and was educated in local schools.
Tim was known in the community, near and far, as a fine mason and carpenter. Tim never had to look for work , it came to him by reputation. Many fine houses and buildings are enjoyed by many throughout the land with his designs upon them.
Tim was seen by some as a bit stubborn, but it was his way. He often said he wasn't one to teach those who worked beside him, but he did. His mastering of his craft, work ethic, doing it "the right way", all those who spent or worked beside Tim are better people because of it.
We remember his joy of the simple life away from work, enjoying the off days at home with Sue, working to keep his property beautiful for all to see. He enjoyed a drink at the end of the day with friends, the collection and refurbishing of antiques, old cars, and gas pumps. Tim was known nationwide for his accomplishments in these endeavors.
Tim will be greatly missed by all who had the pleasure of being part of his life.
He is survived by his wife of 37 years, Sue; his mother Frances Wallace of Sumner, two brothers Randall Wallace of Madison and Gregory Wallace of Hartford, one sister Deborah Gilbert of Turner, a special Cousin Bruce Cochran of Cumberland and special friends Keith, Bill and Roland.
Memorial services will be held at a later date to be announced by Cliff Gray Cremation and Funeral Services, 60 Andrews Road, Bryant Pond.
Celebration of Life
In Memory of Tim Wallace
Sunday, June 10 – 1:00 – 4:00
At the home of Tim & Sue Wallace
380 Black Mt. Road
Sumner, Maine 04292
Family, Friends & Car Clubs Welcome