Obituaries » Vivian Ruth Hoy

Print
January 1, 1921 - March 4, 2020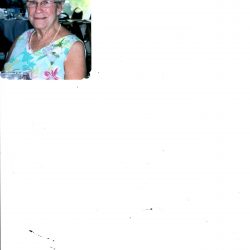 Obituary Viewed 2667 times
Vivian Ruth (Young) Hoy, 'Bibby' to her many friends, passed quietly into the arms of her Lord and Savior
on the evening of March 4th. She was surrounded by her two sons and their wives, tended and comforted by Market Square Health Center's attendants who had come to love her.
Vivian was born in Port Elgin, New Brunswick on Jan 1, 1921, the youngest of five children. Shortly after
Her birth, her father, Harley Young, brought the family to the Portland area looking for work. She
attended Portland Schools, graduating from Portland High School in 1937. An important feature of her
teen years was the summers she spent in Grand Manan with her father's family.
On graduation, she went to nursing school in Portland, finishing first in her class. As a nurse, she met
Ralph Hoy, a toolmaker working for Saco-Lowell Co in Biddeford. He joined the Navy in World War II and
he and Bibby were married in 1944 at the Glenwood Baptist Church in Portland. She went to the Naval
facility in San Francisco where Ralph worked as a torpedo-man, living in a trailer without running water off base.
As a wife and mother, Vivian lovingly dedicated herself to putting the needs of her family above her own. June Cleaver, the Beaver's mom, couldn't hold a candle to our mom! And for all that, Vivian thrived
outside the home. She had an insatiable curiosity about the world around her. Whether learning to
upholster furniture, studying psychology, or becoming an expert in handwriting analysis, Vivian modeled
for her children what it meant to be a lifelong learner.
Moving to Maine on Ralph's retirement, Bibby downhill skied, swam, cross country skied, gardened, and
continued to tend her flock, her family. While these pursuits captured her interest, it was the things of God that captured her heart. Vivian's life became a testimony to the power of prayer, and her Bible, worn from years of loving use, established her walk with Him and provided the firm foundation upon which she stood. In every endeavor her desire was to know and serve Him, and to tell others about Him.
Vivian is survived by her two sons, Leonard and his wife, Cathy (Littlefield) Hoy and Douglas and his wife,
Cecelia (Pope) Hoy; her grandson, Michael J. Hoy and his wife Jessica (Bruce) Hoy of Dallas, GA; and
granddaughters Krista Zegouros of Bangor, and Patricia Hoy of Lewiston as well as five great
grandchildren and four great great grandchildren.
Vivian's family wants especially to thank the staff at the Market Square Health Center's Residential Care
Unit for the loving care and for the outright affection in which Vivian was blessed in her last years. You
didn't just make her comfortable; you comforted her. All that you did made Vivian's passage from this life to eternity's joys and gentle and blessed journey.
A funeral service will be held on Saturday, April 4th at 11:00 at the Bethel Alliance Church, 251 Walker's Mills Rd, Bethel. In lieu of flowers, the family encourages a donation to the Bethel Alliance Church's Student Scholarship Fund or to its Benevolent Fund at PO Box 806, Bethel Maine, 04217.
Arrangements by Cliff Gray Cremation & Funeral Services, 60 Andrews Road, Bryant Pond.